So here it is. My first blog post.

I can't promise that it will be super interesting but I CAN promise you that it will be girly. Full of fun things like decorating inspiration, flowers, fashion and cooking. I can only hope through all of these fun things, the one thing that you learn about me is that my heart belongs to our wonderful and loving Lord. I hope that my love for him shines through and that my life can reflect the joy that he has put into it. That is what I live for. All of the girly things are just extras!

I am getting ready to make the biggest move of my life as I head down to Carolina to be with my love, A. I love him and I also love some South Carolina. It is such a beautiful state and there are so many great things about it. However, I love my life here in Kentucky. I will miss my friends and family so much. But I know that the Lord has prepared my way and has big plans for me down in South Carolina. And my love, A...well, I think the Lord has big plans for us as well :)

I have been thinking about making a blog for awhile. I wanted a way to record my journey down to Carolina. I wanted to have a place to gather all the things that inspire me. So now, it has begun. Welcome....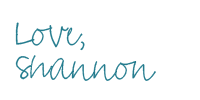 Photo above via Flickr. Visit!